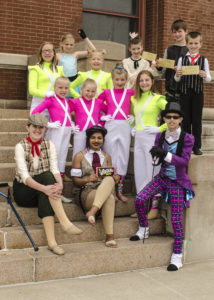 Glenda Studio of Dance will be performing Willy Wonka And The Chocolate Factory, Saturday June 2nd,  2018 at the Grand Theatre,  Keokuk, Iowa.  Children from the tri-state area ranging in ages from 2-18 years will be performing.  We will show a nice variety of ballet, lyrical, tap, jazz/hip hop as well as acrobatics routines that will center around our Willy Wonka  theme.   Our 2017/2018 Glenda's Dance Team will be performing their award winning routines as well.  Tickets may be purchased ahead of time at Glenda's at 8N 7th street,  Keokuk or at the door the night of the performance.
front row—grandpa joe– Kami Miller, Charlie–Mariah Tinsley, Willy Wonka—william Potratz.
Second row—Oompa Loompa's—Kynlee Church,  Megann Manton,  Katheryne Zufall,  Reagan Haage.
Third row—Oompa Loompa's Emma Cole, Katy Eby.
Back Row—Violet Bearegaurd—Jensen Eaton.   .Varruca Salt—Eden Kearse,  Augustus Gloop—Ryan Bair,  Mike Teavee—Jackson Bair.